Penalties, protests, requests for redress
On national/regional events, the protest committee is based ashore observing the racing.
Protest hearings are held ashore immediately after racing
Good communication (PA system) required to inform riders about incidents (i.e. BFD, protests, redress)
RC shall postpone racing in case of hearings affecting subsequent starts
On international events, a properly constituted international jury should be appointed.
3 members are on jet skis/ribs, observing and signalling penalties and communicating to competitors on the water and the chairman of the jury ashore.
Chairman of the jury with one assistant are based on the tower observing and in charge of final decisions and communication with the race committee about penalties affecting the finishing order
Finish boat displays penalty flag (Bravo) to inform riders that finish order might have changed
Addendum FS (Kiteboard Slalom, also FSR for refereeing) can be found on the Offical Notice Board HERE
Read more about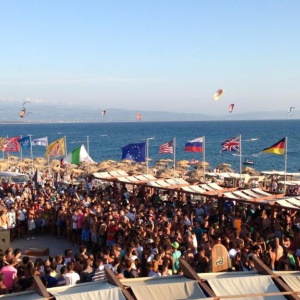 Last Event

Open World Championships
Gizzeria 2018
Italy
Event Winners

| | | |
| --- | --- | --- |
| | Florian Gruber | |
| | Sofia Tomasoni | |
Current World Ranking Standings
Men
| | | | |
| --- | --- | --- | --- |
| 1 | Florian Gruber | | 249 pts |
| 2 | Martin Dolenc | | 233 pts |
| 3 | Victor Bachichev | | 173 pts |
Women
| | | | |
| --- | --- | --- | --- |
| 1 | Sofia Tomasoni | | 200 pts |
| 2 | Poema Newland | | 188 pts |
| 3 | Daniela Moroz | | 176 pts |
Boys
| | | | |
| --- | --- | --- | --- |
| 1 | Benoit Gomez | | 394 pts |
| 2 | Victor Bachichev | | 379 pts |
| 3 | Cameron Maramenides | | 371 pts |
Girls
| | | | |
| --- | --- | --- | --- |
| 1 | Sofia Tomasoni | | 421 pts |
| 2 | Nina Font Castells | | 405 pts |
| 3 | Poema Newland | | 367 pts |